Smart strategies for return on investment
SCMS implements innovative strategies and approaches to generate efficiencies all along the supply chain. As fundamental systems are strengthened to be more effective, cost savings are being leveraged to increase the funding available to treat more patients.
Driving down costs through pooled procurement
SCMS's global pooled procurement mechanism takes advantage of the tentative FDA approval process and leverages volumes to reduce costs and improve vendor performance. Consolidating multiple orders to buy in large volumes via long-term, indefinite-quantity contracts enabled SCMS to develop strong relationships with key vendors and consistently drive down costs. Over the life of the project, average costs of (ARV) drugs dropped to around $110 per patient per year. SCMS averaged 330 deliveries per month with a value of $36.1 million in the year ending September 2015.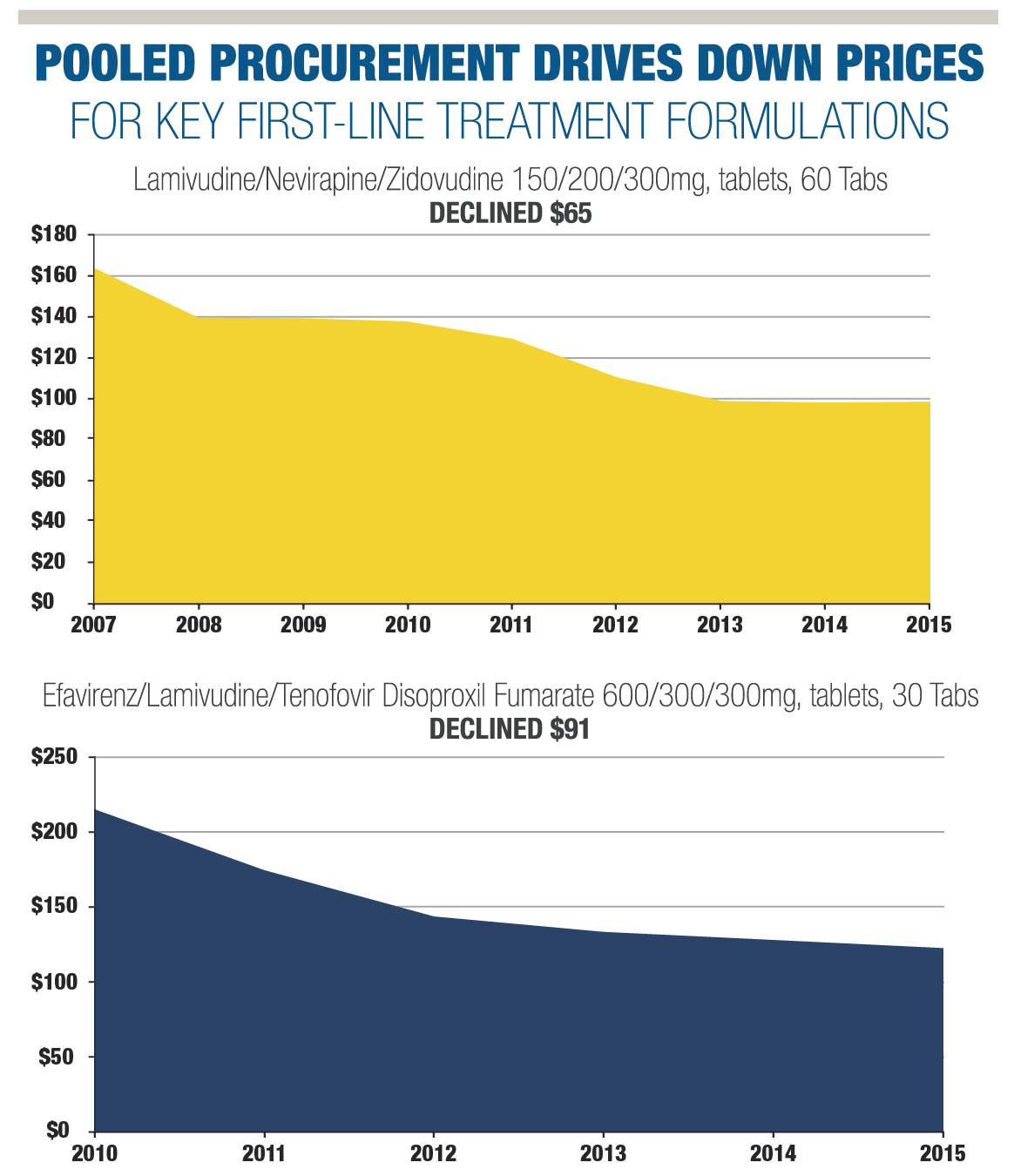 Freight savings
SCMS maximized the use of safe, reliable ocean freight for major shipments of ARVs and other key products, saving more than $176 million in shipping costs over the life of the project. Forecasting and supply planning are essential elements in the project's ability to use ocean freight. The earlier planning takes place, the greater the project's ability to use the most cost-efficient mode of shipment. This policy is now followed by other large organizations that are also benefitting from significant savings. Every dollar saved has the potential to be used to purchase more life saving commodities.
Bringing stock closer to the point of care with regional and local distribution centers
SCMS RDCs in Ghana, Kenya, and South Africa provide regularly scheduled shipments to neighboring countries and expedite emergency orders to prevent stockouts. The project's local distribution centers (LDCs) in Haiti and Nigeria offer the same benefits as the RDCs, but at the national level. At the same time, they enable countries to expand their commodity storage capacity and their ability to consolidate deliveries.
In accordance with the project's sustainability strategies, IHS established the RDCs as commercial enterprises. Along with SCMS, the RDCs have attracted such private-sector clients as GlaxoSmithKline, Pfizer, Adcock Ingrams, and Merck Serono making the RDCs viable local commercial entities without the need of USG support.
Tracking market data to ensure safe, reliable supply
SCMS constantly monitors the HIV/AIDS market to detect and analyze changes that can affect HIV/AIDS treatment availability. Understanding market conditions in supply and demand has enabled us to virtually eliminate central-level stockouts in PEPFAR-supported countries and significantly decrease emergency orders.
By following active pharmaceutical ingredient (API) availability and pricing around the world, SCMS has been able to foresee issues and forward procure to mitigate shortages or major price increases. When China increased its environmental controls on API production, some manufacturers had to shut down to adapt to the new quality standards, making product unavailable. Seeing this impact early, we kept shortages from affecting the project's clients by ordering in advance and restructuring shipments to maintain supply and minimize risk.
Field Office Managed Procurement (FOMP)
In 2009, SCMS began decentralizing its processes so that field offices could manage procurements of appropriate commodities in-country. Through the FOMP program, procurement ownership was shifted to local buyers who worked closely with local vendors to speed the sourcing and delivery of commodities. These efforts contributed to SCMS's ability to boost client satisfaction, shorten lead times, increase on time delivery, and maximize access to local markets.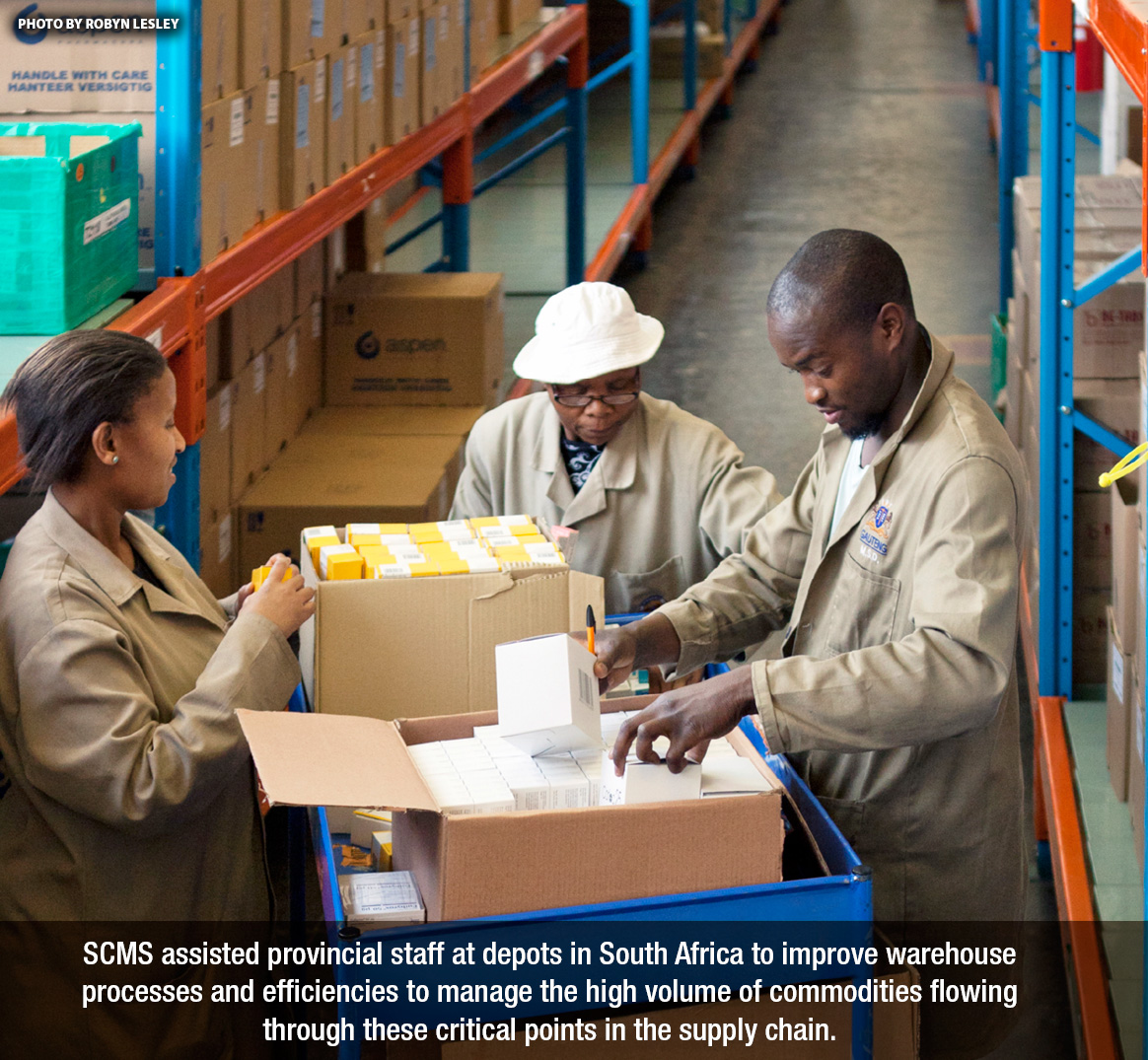 Efficiencies gained by changing VMMC packaging
SCMS worked with manufacturers to resize cartons carrying VMMC kits to better fit pallets so they could be stored and shipped more efficiently. Since October 2013, due to efficiencies gained in changing the VMMC packaging, SCMS has been saving an estimated $9,000 in storage costs per month for every 100,000 VMMC kits.
Saving $1 million through quality forecasts and informed decision making
In 2010, the Zimbabwe Ministry of Health and Child Welfare decided to use a serial algorithm for HIV testing in place of the parallel algorithm that had been used previously. This change—based on forecasts developed with support from SCMS—made it possible to save $1 million per year.
Rapid impact, big savings in South Africa
PEPFAR pledged a one-time, two-year infusion of $120 million to assist the South African Government to scale up ART. SCMS, through USAID, was asked to provide procurement and distribution support valued at $110 million for this initiative.
Using forecasts developed by CHAI and Management Sciences for Health (MSH), we pooled procurement to deliver ARVs at international prices significantly lower than those obtained through the South African Department of Health's drug tendering process.
As a result, the South African Tender Board adopted the same procurement practices, reducing South Africa's ARV prices by 53% and saving the government $630 million on a two-year tender, resulting in a 40% increase in patients on treatment. This also generated a savings for PEPFAR of $100 million.
"It is my pleasure to announce the massive reduction in the prices of antiretroviral drugs, which has resulted in the 53.1% reduction in cost of the total tender, which translates to a R4.7 billion savings."

—Dr. Aaron Motsoaledi, Minister of Health, South Africa