Redefining capacity building
At SCMS, we see developing countries' increasing economic growth, expanding political leadership, and growing private sectors as opportunities to move beyond traditional training and capacity-building models that focus heavily on the public sector. In response, we are creating innovative programs to strengthen both public- and private-sector supply chains.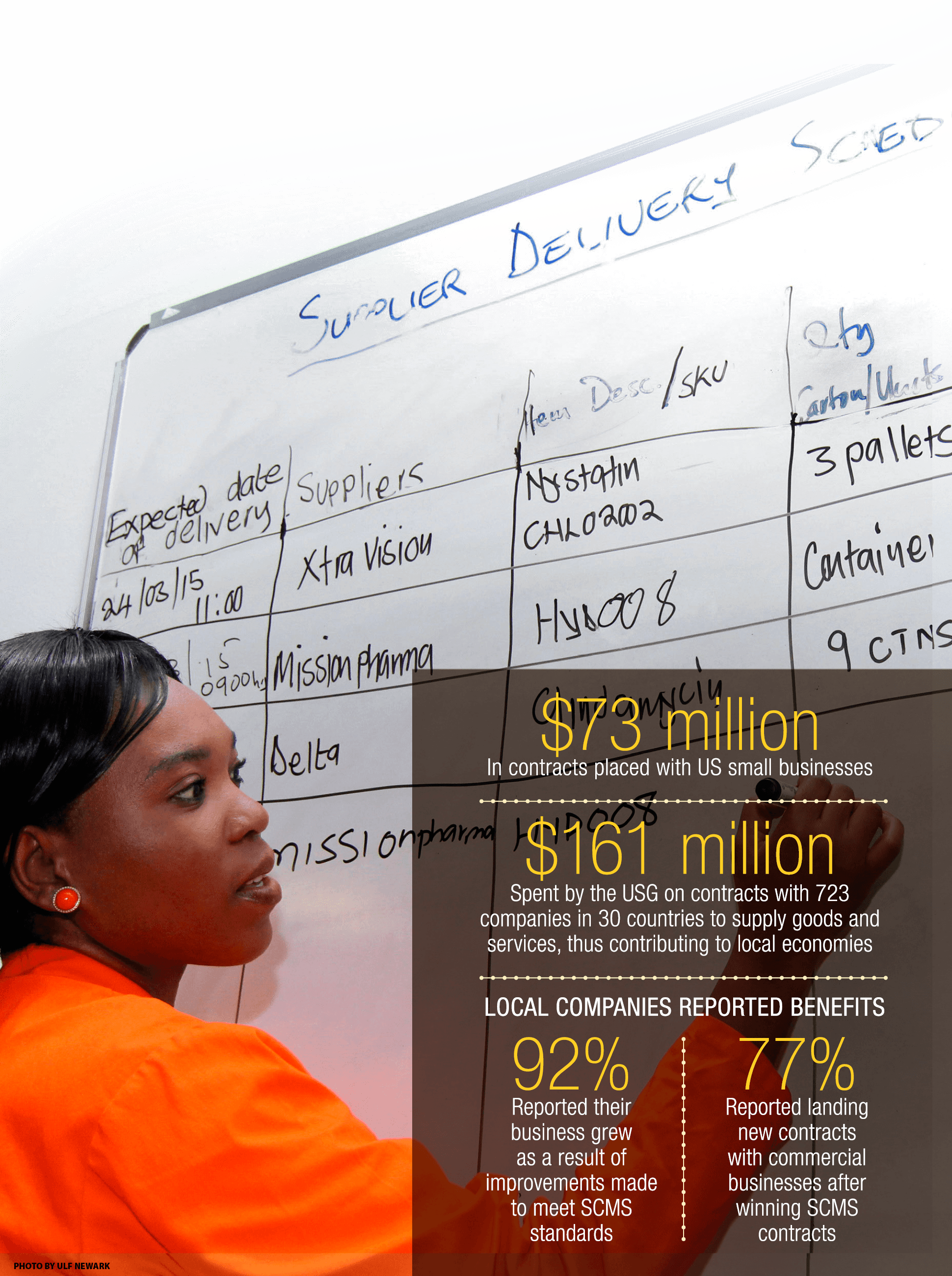 Educating the next generation
SCMS has partnered with public and private universities to help educate the next generation of public health logistics professionals. Worldwide, we partnered with more than 20 universities in 11 countries (Botswana, Ethiopia, Guatemala, Honduras, Namibia, Nigeria, Panama, Tanzania, Vietnam, Zambia, and Zimbabwe) to develop a supply chain curriculum and integrate it into existing degree programs. In Nigeria pre-service training was made available online and in Vietnam we helped develop training videos.
Bringing quality management closer to home
It is estimated that between 10–25% of the pharmaceutical products in use in developing countries are substandard or falsified.* PFSCM's policy is to only supply products which meet appropriate quality standards and are fit for use, whether they are locally or internationally produced. This is accomplished through manufacturer and supply chain inspections, product quality sampling and testing, and document reviews. The ability to procure locally from sources which adhere to these quality requirements has the added benefit of shortened lead times, lower freight costs, and economic support to local economies.
Since SCMS's inception, the Quality Assurance Unit (QAU) has conducted 185 inspections of manufacturers, wholesalers, and warehouses in 21 countries (including the US) and reviewed more than 300 dossiers on products ranging from pharmaceuticals to RTKs, food by prescription, and male circumcision kits. More than 250 products were approved for direct procurement. The consequence of this diligent pre-qualification work was a secure supply chain in which zero counterfeit or falsified products were ever detected. A study by the William Davidson Institute at the University of Michigan evaluated the local economic impact of PFSCM in four countries where SCMS was active, including Ethiopia, Kenya, Mozambique and Tanzania. As a direct result of the SCMS QAU evaluations, 80% of vendors surveyed reported establishing new SOPs since they began working with SCMS. SCMS surveys of vendors indicate overwhelmingly that the application of these global quality standards, for many vendors, translated into improved global and local competitiveness.
In Ethiopia, SCMS was officially recognized by the Addis Ababa City Administration Health Bureau for "sponsorship and tireless efforts to promote laboratory quality management." The project's work with bureau staff improved their lab operations, enabling them to achieve ISO certification for their regional laboratory, a major achievement, recognizing their adherence to stringent international standards.
To minimize reliance on foreign testing centers, SCMS worked with the Addis Ababa University School of Pharmacy in building local pharmaceutical quality assurance and quality control capacity. As part of this effort, USAID provided the school with industry-standard quality control equipment. The school is now receiving and testing pharmaceuticals for the first time.
*WHO Factsheet No. 275
Promoting international standards with local vendors
Buying locally supports local economies, strengthens local institutions and businesses, and provides timely access to products already in country.
To meet the exacting standards of the USG, SCMS inspects and prequalifies commodity vendors and encourages continuous improvement. To do business with SCMS, many companies must first invest their own time and financial resources to improve their business processes and service levels. For lab commodities, SCMS has prequalified 26 local vendors in Burundi, DRC, Haiti, Nigeria, Uganda, and Zambia. Overall, about 80% of the project's monthly laboratory commodity needs are obtained from the local market.
The project's international freight and logistics (F&L) service providers contract local transport companies to deliver commodities to some of the hardest-to-reach areas of the world. When developing new partnerships, F&L works with local companies to raise their level of business processes to international standards, providing training in good distribution practices.
"This training enables a change in the attitude of the pharmacist at hospitals, because they will no longer just dispense medicines, but will help strengthen procurement management, which, added to clinical activities, will promote patient comfort and promote rational drug use."

—MSc. BESSIE OROZCO R. MAF, QF FACULTY OF CHEMISTRY AND PHARMACY, UNIVERSITY OF SAN CARLOS OF GUATEMALA