Innovating for impact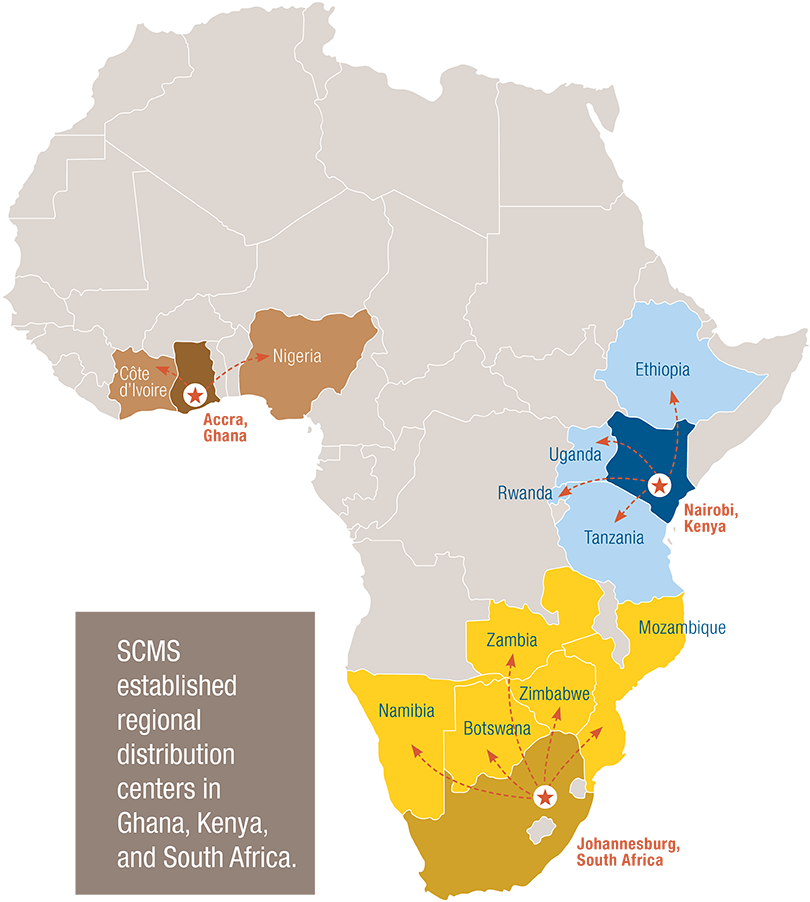 To meet the needs of the millions living with HIV/AIDS, we knew we had to do more than shore up the basic foundations of physical, organizational, and human infrastructure. Modern technologies, breakthroughs in procurement and pricing, and structural innovations were needed to create new models of development that could successfully address public health supply chain challenges. Ingenuity would be key to overcoming development roadblocks.
Regional distribution centers, an innovation success
Regional distribution centers (RDCs) were established in Ghana, Kenya, and South Africa to bring lifesaving medicines closer to those who need them, protect fragile national supply chains from overload, and reduce lead times. The RDCs were designed to be more responsive than anything seen in the public sector—delivering products in days, weeks, or months instead of quarters or years. RDCs effectively separated manufacturers' product supply from individual client demand, yielding multiple benefits:
Enabled 85% of all procured ARVs to be shipped by ocean versus air at current cost savings of $176 million.*
Positioned product closer to final destinations so SCMS could make smaller, regular deliveries and protect local supply chain systems.
Ensured rapid response to emergency requests.
Reduced the risk of theft, diversion, or counterfeiting through provision of physical security.
Protected product quality by maintaining industry best-practice standards.
SCMS team member Imperial Health Sciences (IHS, formerly RTT) established the RDCs for use by SCMS and other clients
*According to SCMS analysis.
A major breakthrough in ARV access: Tentative FDA approval
Before PEPFAR, one of the biggest hurdles to the rapid scale-up of antiretroviral therapy (ART) in the developing world was the price of ARVs. Acting under congressional mandate, the US Food and Drug Administration (FDA) modified their existing process to create a unique system for tentative approval of generic versions of branded ARVs for purchase by PEPFAR. In 2005, 12 such drugs were approved or tentatively approved for use; by June 30, 2015, 187 were approved. The exponential increase in generic ARV availability and in ARV procurement enabled the US Government to save hundreds of millions of dollars on the cost of ARVs and save millions of lives. Over the life of the project, 97% of all ARVs SCMS purchased have been generics.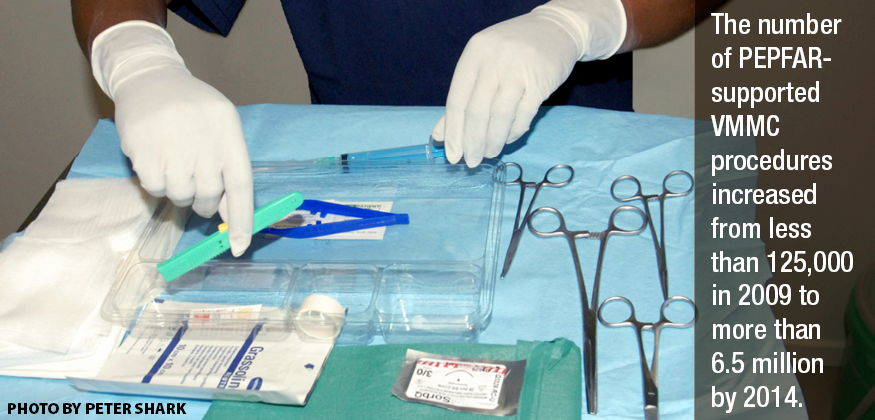 Providing a new program paradigm for VMMC
In 2009, USAID asked SCMS to supply Voluntary Medical Male Circumcision (VMMC) kits based on specifications from the PEPFAR Male Circumcision Technical Working Group. SCMS identified vendors, working closely with them to maximize product availability and negotiating a 30% price reduction on single-use VMMC kits. We also examined manufacturer processes to identify bottlenecks—doubling capacity and increasing the use of alternative transportation modes to drastically reduce costs and minimize delivery lead time.
Efficient and flexible logistics practices were critical to achieving this unprecedented surgical scale-up and ensuring a continuous flow of commodities to support VMMC programs. The project's varied logistics interventions were instrumental in helping ensure product availability while also saving money and time.
Managing VMMC health care waste with a new tookit
Coordinating closely with USAID, SCMS developed a VMMC health care waste management (HCWM) toolkit. The project's collaborators on this initiative included Population Services International, JHPIEGO, Futures Group, and the Swaziland Ministry of Health's Environmental Health Department. Based on South African national standards, international best practice, and the SCMS HCWM model, this comprehensive set of tools provides guidance on building HCWM operational infrastructure, improving staff capacity, and helping stakeholders manage the waste generated by VMMC procedures, especially for campaigns using disposable VMMC kits.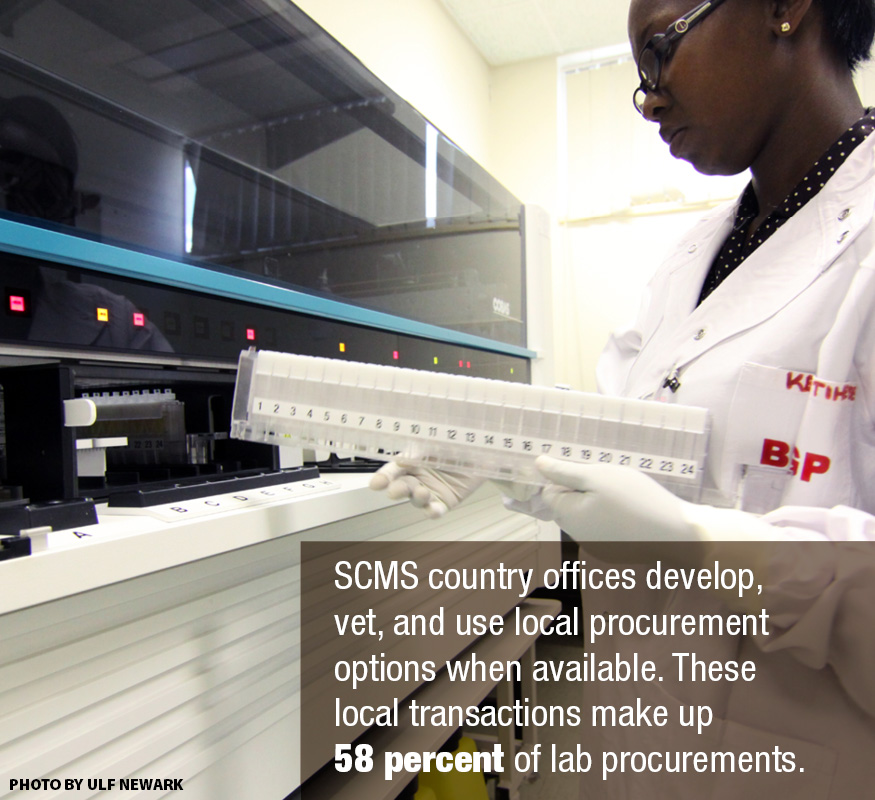 Developing a new lab forecasting tool through a public-private partnership
Logistics is a data-driven process. With funding support from USAID, SCMS worked with USG technical leadership and the Clinton Health Access Initiative (CHAI) in developing the ForLab quantification tool to assist laboratory programs in forecasting their commodity needs. Inaccurate forecasts can lead to a waste of money and commodities—or worse, to stockouts. ForLab is a unique tool that aggregates four key data points—demographic morbidity, service, logistics, and consumption—to increase the accuracy of lab commodity forecasts and produce procurement-ready supply plans. The tool also gives laboratory program managers insight into supply chain challenges, service delivery gaps, uptake, and delivery inefficiencies that increase costs. ForLab was vetted through the CDC security office and approved for CDC staff use.
To date, Botswana, Côte d'Ivoire, Democratic Republic of Congo (DRC), Ethiopia, Haiti, Mozambique, Nigeria, Rwanda, Tanzania, Vietnam, Zambia, and Zimbabwe have used the tool for their national laboratory quantifications.
Facilitating 90-90-90 implementation: A tool to help countries transition from CD4 to viral load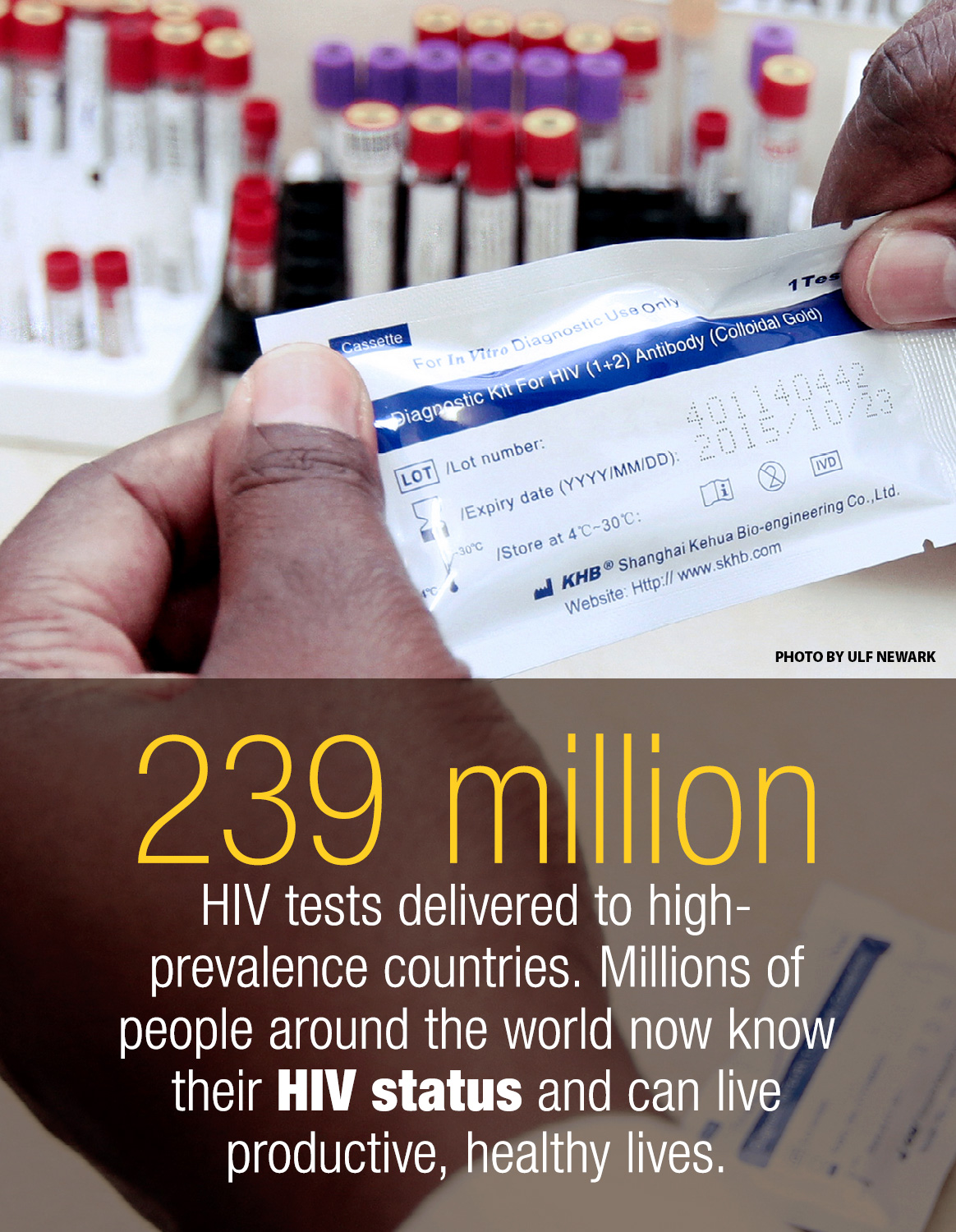 Countries face significant challenges in successfully planning the implementation of viral load scale-up plans to meet the UNAIDS 90-90-90 targets. To address these challenges, SCMS developed a costing model for CD4 and viral load transitioning as part of scale-up planning. After developing the project's tool, we partnered with CHAI, Médecins Sans Frontières, and other partners to incorporate this tool into a single, comprehensive health system viral load costing tool that all could use.
This tool is aimed at helping countries model transition scenarios to understand the programmatic and cost implications of scaling up viral load testing while reducing the need for CD4 monitoring. This tool was included in the Diagnostics Access Initiative (DAI) viral load and early infant diagnosis (EID) acceleration toolkit—launched at IAS 2015 in Vancouver—which aims to catalyze the expedited scale-up of viral load testing and EID.
Pilot testing geospatial technology to optimize data
In Ethiopia, USAID requested that SCMS develop a national supply chain strategy utilizing LLamasoft supply chain optimization software. We leveraged this opportunity to demonstrate the software's utility in optimizing laboratory sample referral networks and instrument placement through an initial pilot study. With the success of this demonstration, which showed a potential savings of up to $1 million in sample referral costs, USAID and CDC requested that SCMS initiate a collaborative effort with LLamasoft to develop a lab-specific tool using geographic information system (GIS) technology. The tool is intended to assist Ministries of Health in PEPFAR-supported countries to optimize laboratory sample transport routes and monitor HIV testing quality.
GIS technology had never before been used for this purpose. It provides a performance map to help program managers understand geography-related issues and develop informed, strategic responses to diagnostic needs and performance. The tool was rolled out in October 2015, and included the Diagnostics Access Initiative (DAI) viral load and EID acceleration toolkit.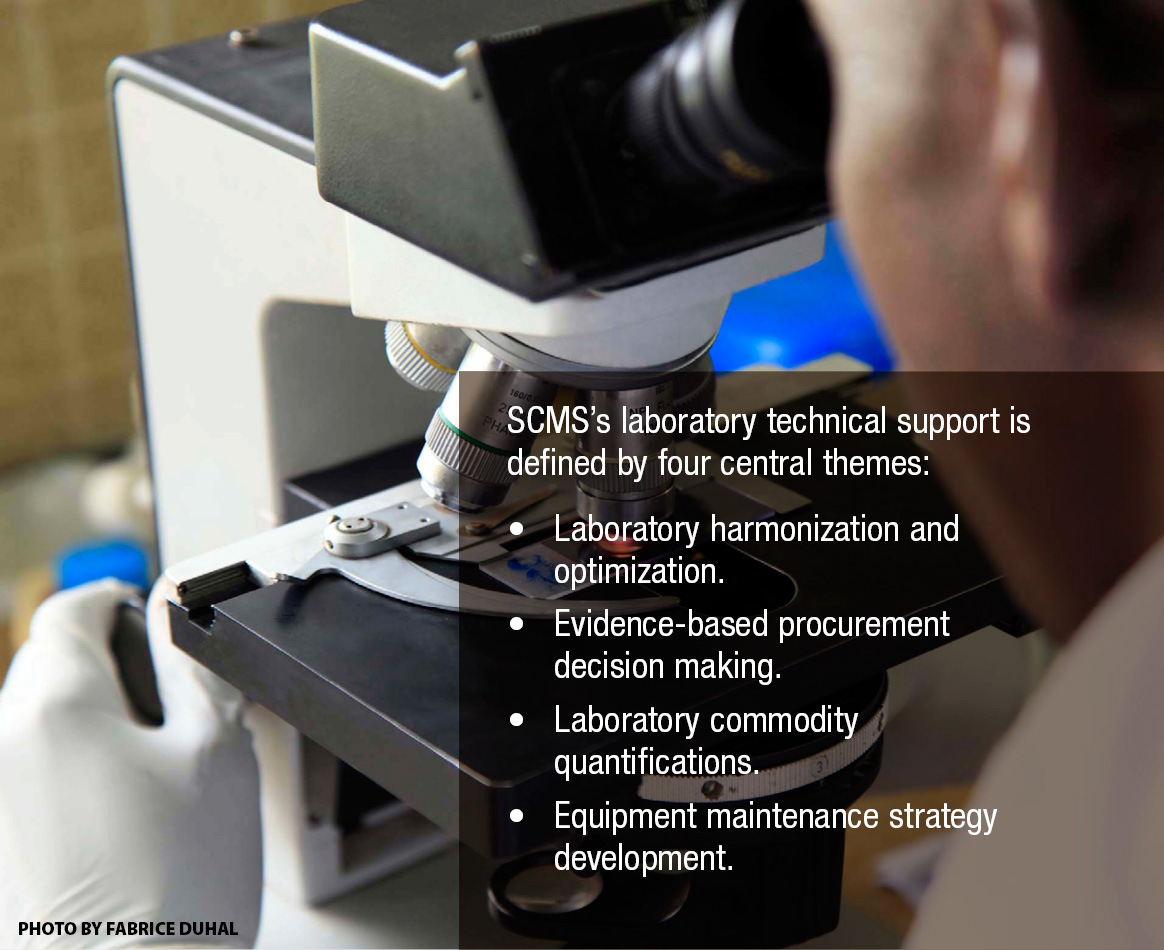 Connecting the dots in Rwanda with a country-owned eLMIS
An electronic logistics management information system (eLMIS) provided by One Network was sourced and paid for by the Rwandan Ministry of Health (MOH) and the Global Fund. This country-owned eLMIS provides visibility into every product in the system, from the central to the site levels.
SCMS managed the implementation. We also worked with the MOH to train "super users" on the system and to establish the technical set-up. Across 77 district health centers and pharmacies, it took just two weeks for stock on hand data to be uploaded from paper spreadsheets into the One Network system. These sites are all now reporting using this system.
Saving time and reducing errors in Mozambique with radio-frequency devices
To help improve warehouse efficiency, SCMS trained and certified staff at Mozambique's Zimpeto central warehouse, the MOH's main warehouse, to use radio-frequency (Rf) devices. These devices are used to scan bar codes on wrapped pallets at different warehouse locations, allowing staff to instantly retrieve product information from every location and enabling faster stock counts and pallet movements within the warehouse. Before Rf devices were installed, staff could spend more than five hours to move a maximum of 60 pallets, compared with the 30 minutes it now takes using Rf. Rf also significantly reduced data errors, improving stock accuracy.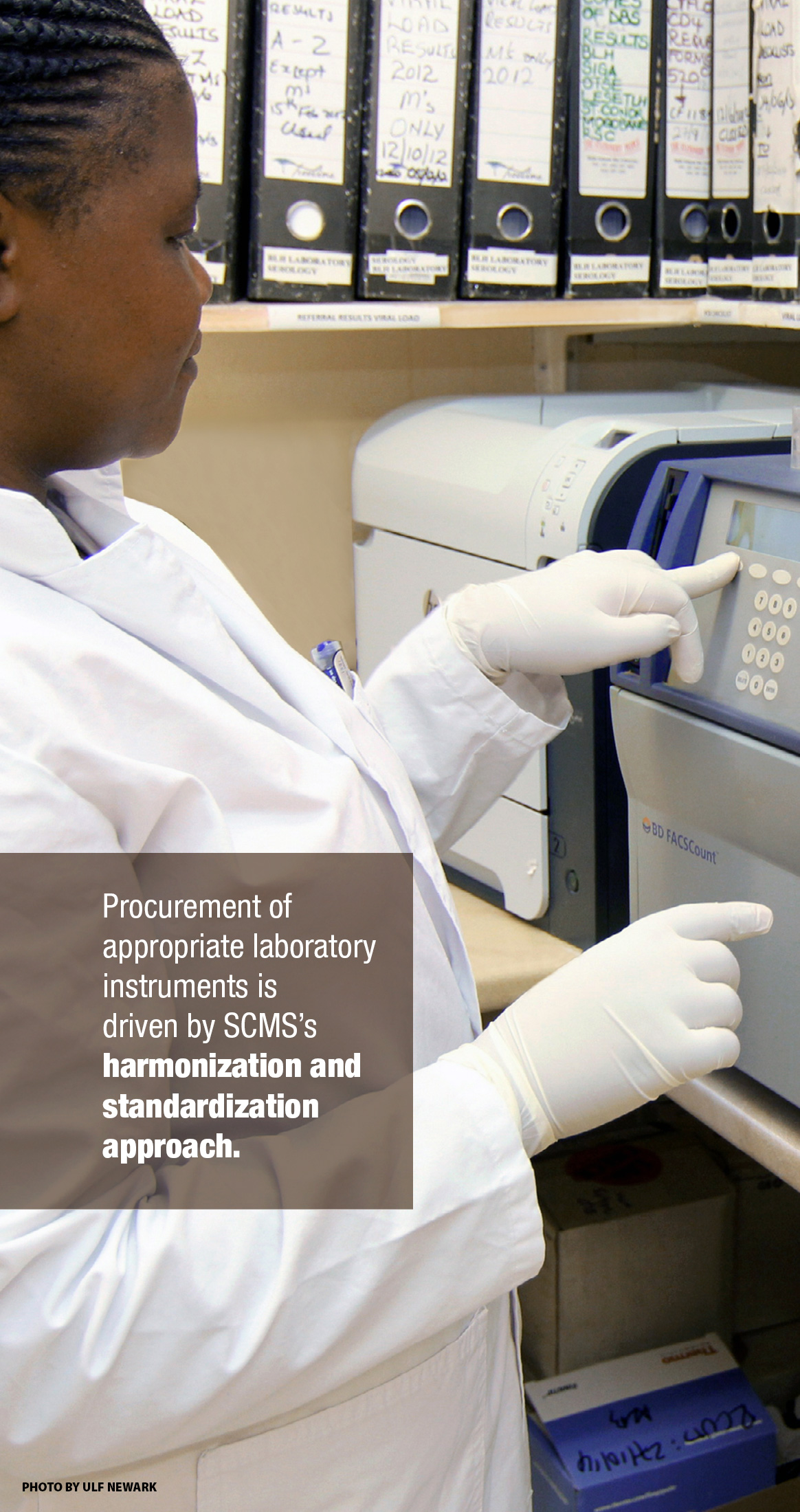 Expanding warehouse capacity with Warehouse-in-a-Box™ (WiB)
Using modular building technology, SCMS team member organization IHS created WiB and Clinic-in-a-Box™ to fill gaps in country infrastructure. WiB is the ultimate one-stop solution for rapid infrastructure deployment. Benefits include significant savings in cost and time, improved health care delivery, supply chain performance, and enhanced warehouse operator skills.
These solutions not only addressed physical infrastructure of the facilities, but all operational components, such as materials handling, security, and office equipment; developing standard operating procedures (SOPs); and training staff and managers in good warehousing practices. Solutions can be deployed more rapidly than conventional structures and sized to meet individual country needs, ensuring projects come in on time and on budget, with pharma-grade facilities.
On behalf of the USG, SCMS commissioned these modular structures to expand warehousing capacity and treatment access in Côte d'Ivoire, Nigeria, Rwanda, and Tanzania.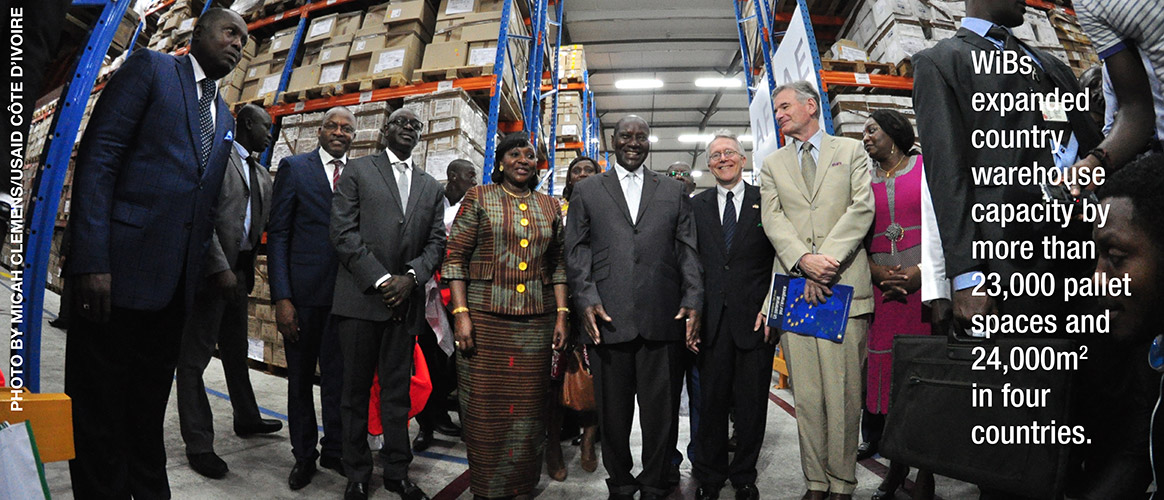 New tool developed to provide supply chain insight for better national decision making
The National Supply Chain Assessment (NSCA) diagnostic toolkit developed by SCMS, USAID | DELIVER PROJECT, and SIAPS (three USAID-funded projects) assists countries to comprehensively review country supply chain capability and key performance indicators.
Outputs of the NSCA are providing these countries a data-based foundation for national discussions around successes, challenges, and strategies for supply chain investments to support national strategic goals and accelerate performance improvement plans.
From 2012 to 2015, assessments were conducted in Botswana, Burma, Burundi, Côte d'Ivoire, DRC, El Salvador, Eritrea, Lesotho, Mozambique, Namibia, Nigeria, Panama, Paraguay, Rwanda, and South Africa.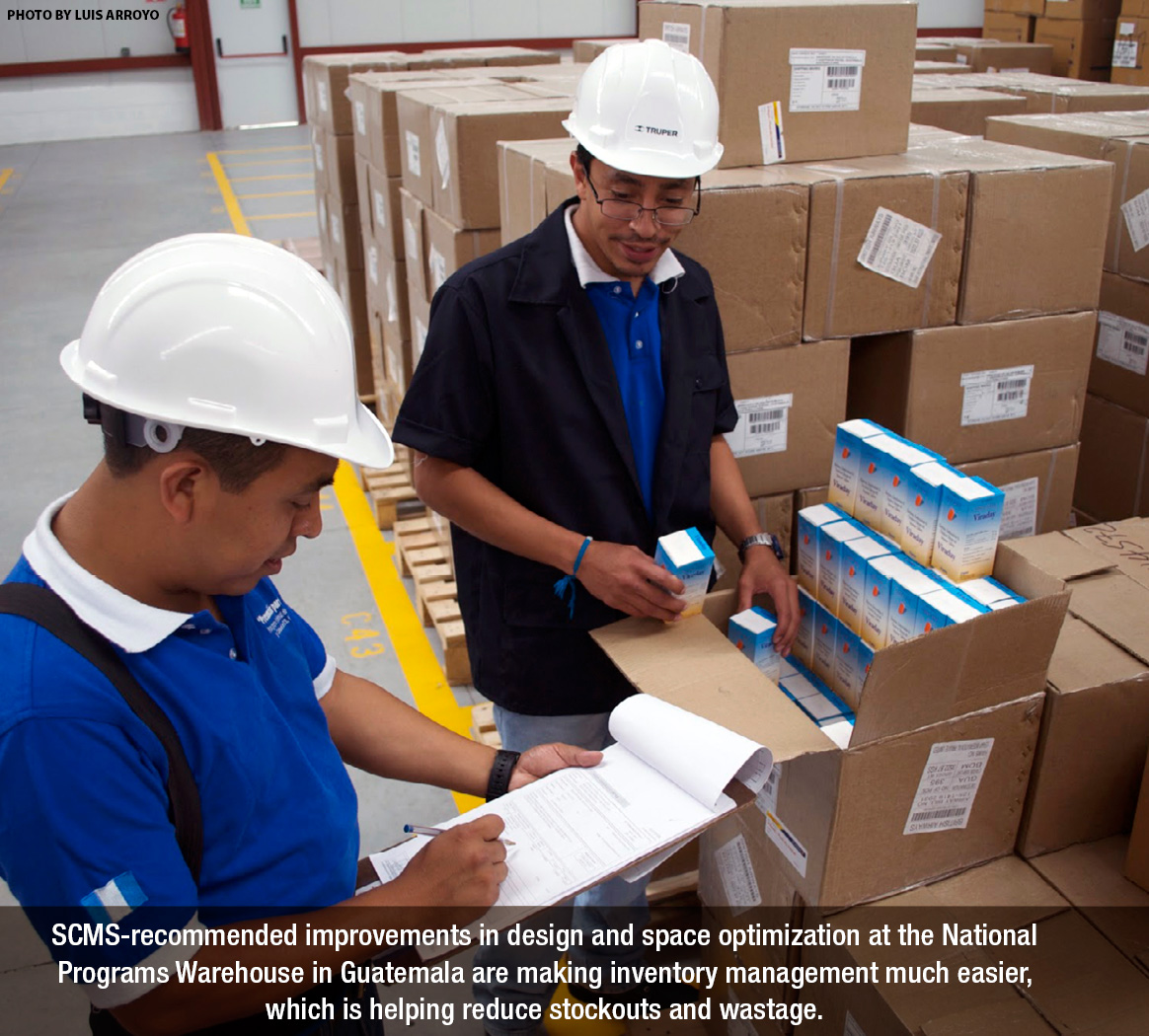 Implementing low-cost, high-impact solutions for warehousing in Guatemala
For more than 15 years, Guatemala had procured and distributed its essential drugs and health supplies through a decentralized regional system with no central warehouse. This left often-imported commodities (for programs such as nutrition, HIV/AIDS, malaria, and family planning) without a central location to be stored and staged for delivery, resulting in inefficiencies. In 2010, at USAID's request, SCMS recommended a low-cost, low-tech, high-impact design that could evolve with the country's needs. For example, rather than installing high-cost air conditioning units that would need to be maintained and powered in the future, we recommended installing thermal insulation in the roof and replacing the walls with insulated, double-sided panels to keep temperatures down. These panels are self-extinguishing in a fire and much lighter than concrete—distinct benefits in this earthquake-prone area.
MOH completed the renovation, based largely on SCMS's recommended design, fulfilling the requirements of good warehousing practices in a cost-effective, practical, and sustainable structure.
Personally, I am benefiting from using radio-frequency (Rf) barcode readers. I am able to do my inventory within a short period of time. I can also count and confirm stock using RF handheld devices at the click of a button.

—Helena dos Muchangos, Inventory Coordinator, Mozambique's central medical store