Targeting transformation
In the midst of the global AIDS crisis, many of the hardest-hit countries lacked the public health supply chain infrastructure to rapidly and effectively respond. Systems were challenged by frequent stockouts, overstocks, expiries, and wastage. Through PEPFAR, under USAID leadership, SCMS was established to provide life saving ARVs to patients.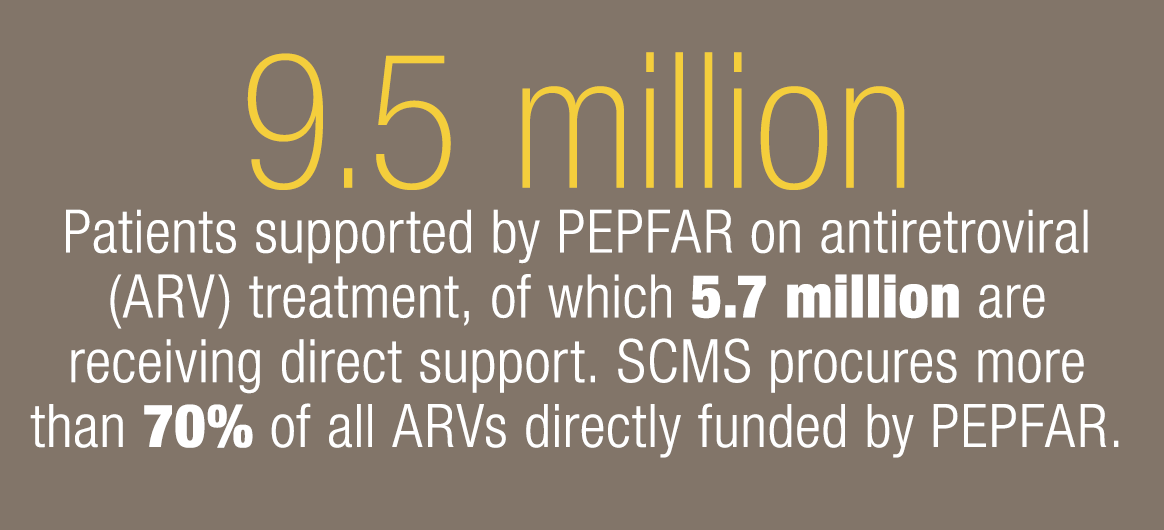 With the leadership of PEPFAR, the US Agency for International Development (USAID), and Centers for Disease Control and Prevention (CDC), SCMS established an integrated, global supply chain. In leveraging economies of scale to reduce the cost of medicines and other commodities and ensure reliable supply, this system would become the provider of choice for the global AIDS response.
The flexibility and resilience of SCMS's approach enabled us to keep pace with the ever-evolving HIV/AIDS landscape, quickly adapting to regimen changes, new programs, and product introductions to ensure the continuous supply of appropriate commodities to patients.
Also, many public health supply chains could not store and distribute the growing volumes of PEPFAR and Global Fund to Fight AIDS, Tuberculosis and Malaria HIV/AIDS commodities.
To keep pace, SCMS pulsed product into countries when required, but not before—in keeping with the project's business model. SCMS also helped equip warehouses with modern racking, security, forklifts, cold rooms, and computerized inventory systems and implemented systems to capture and analyze logistics data for decision making. To build human resources, the project implemented traditional training programs and partnered with universities in setting up sustainable mechanisms for pre-service training.
For 10 years, SCMS, a project managed by the Partnership for Supply Chain Management (PFSCM), has broadened and accelerated public health and supply chain improvements, strengthening the capacity of national governments, vendors, commercial organizations, donors, and others.
As a result of these innovative efforts, countries can better plan for and meet their public health needs, and the global community and marketplace are better positioned to meet accelerating future demand.