Accelerating country ownership
For 10 years, SCMS has been working closely with in-country partners, providing customized, hands-on technical assistance to help them achieve their supply chain goals.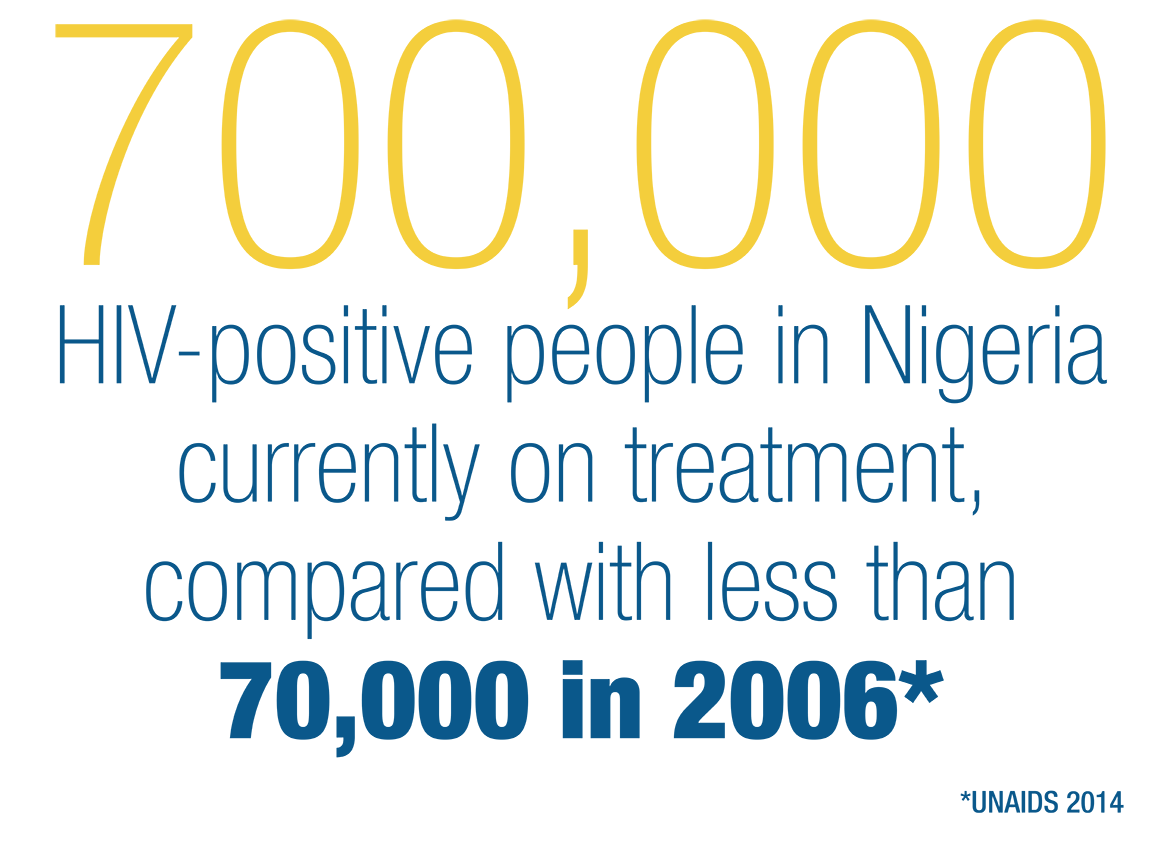 Building a unified national HIV/AIDS supply chain in Nigeria
In Nigeria, SCMS managed a joint effort of PEPFAR, the Global Fund, and the Government of Nigeria to unify 17 HIV/AIDS supply chains into one program. This public-private partnership initiative was driven by the US Mission and designed to encourage government ownership and leadership of the HIV/AIDS supply chain at the state level, while keeping associated risks at a minimum.
The HIV/AIDS Supply Chain Unification Initiative started in July 2012 through a phased approach in five states. By July 2014, it was successfully completed in 36 states and the Federal Capital Territory. This initiative has tremendously improved the overall efficiency of the supply chain by reducing stockouts from 25% to less than 9%, and by delivering to more than 6,500 health facilities in less than two years.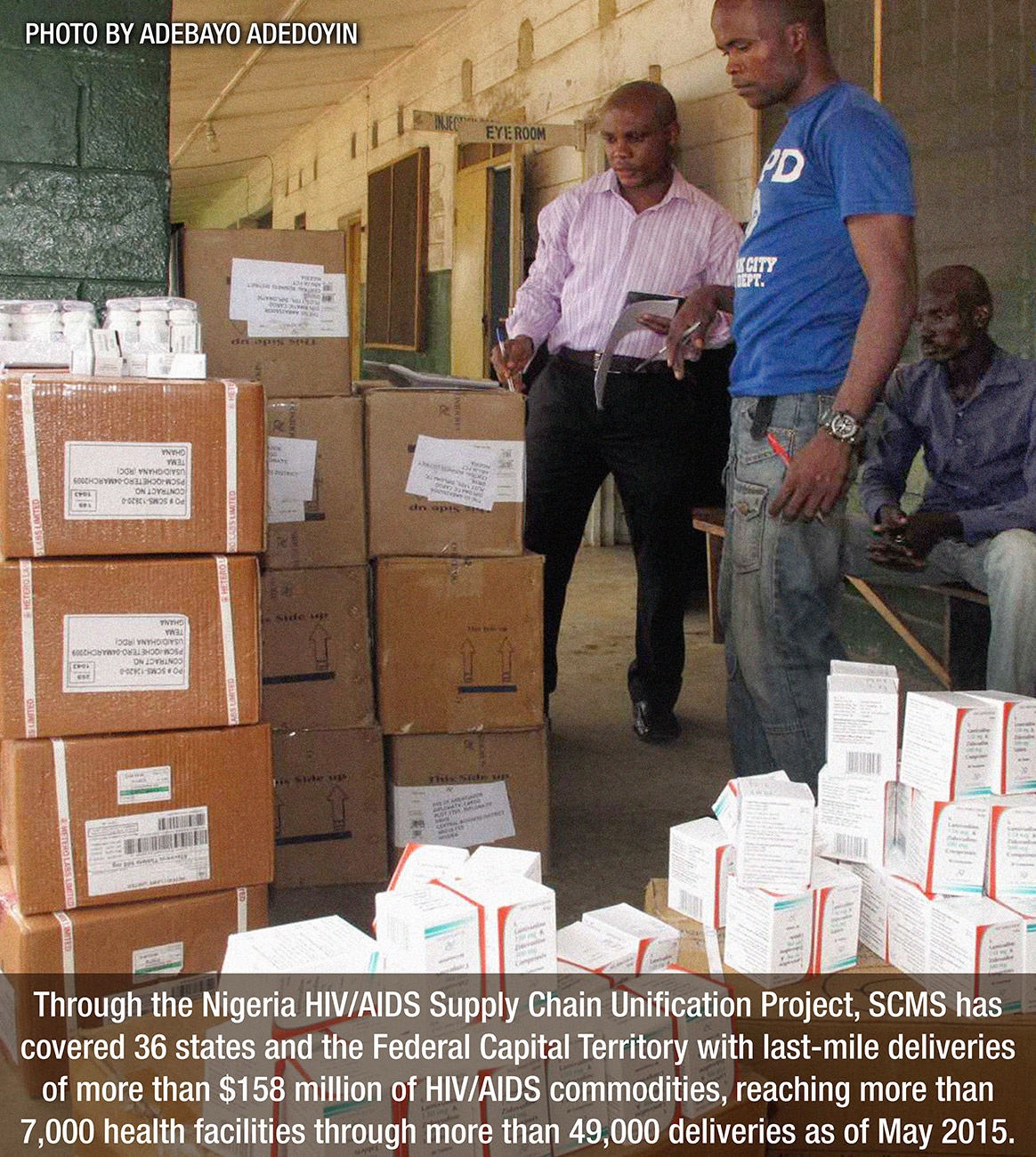 Overhauling Rwanda's system to improve service quality
In 2010, SCMS played a critical role in moving Rwanda from a passive distribution system, in which clients collect their deliveries, to an active one, in which the central medical store (CMS) delivers to clients in response to orders. The active system was modeled on modern, customer-oriented supply chain software and best practices and hinges on preplanned distribution. As a result, clients no longer wait in line for supplies at the central warehouse, and district pharmacies have better control of their inventories, avoiding expensive, time-consuming journeys to the medical stores. Order processing time dropped from 5 days to 45 minutes. Through improved commodity management at the central level facilitated by the One Network eLMIS, the stockout rate has been consistently below 5% at district pharmacies and service delivery points and emergency orders have decreased significantly.
Parallel systems no more; leading the way to supply chain consolidation in Haiti
SCMS is supporting the Haitian Ministry of Health to realize its vision of a national unified public health supply chain. In December 2014, SCMS officially merged its HIV/AIDS supply chain and related commodities supply chain with the local family planning supply chain. With USAID support and by leveraging non-PEPFAR funds, SCMS relocated the project's warehousing operations to a new and much larger facility in Port-au-Prince that was outfitted to pharmaceutical-grade standards to accommodate the high volume of family planning and HIV products. We also harmonized the project's SOPs, warehouse management system, and product tracking tools to accommodate the family planning goods, while taking the opportunity to review and streamline the project's processes. The project charter outlining the blending of HIV and family planning supply chains was submitted to USAID as a roadmap for future supply chain integration efforts.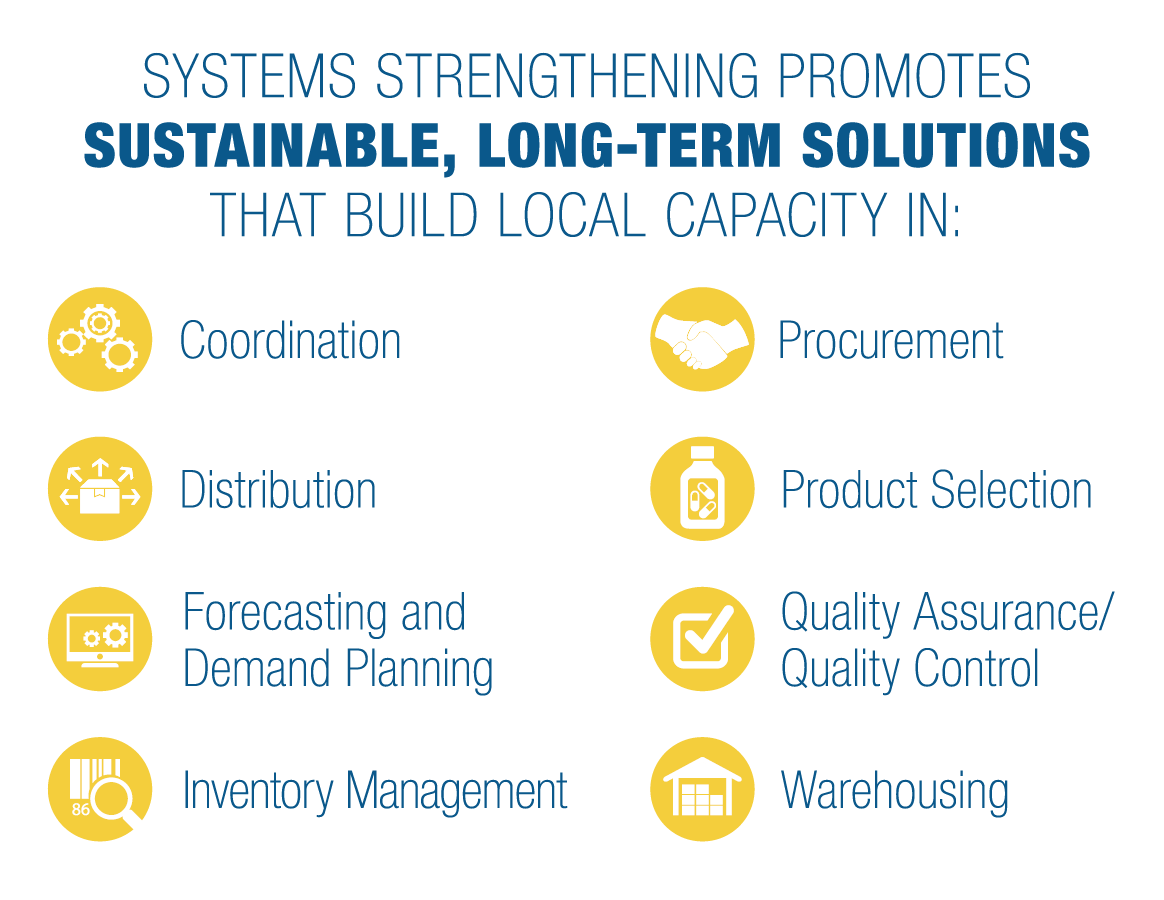 Integrating the supply chain in Ethiopia
Until Government-led reforms began to be implemented in 2005, Ethiopia's health system struggled with inadequate pharmaceutical supply, poor storage conditions, and weak stock management. The result was high levels of waste and stockouts. Various health programs had their own logistics systems. The Federal Ministry of Health (FMOH) and Pharmaceuticals Fund and Supply Agency (PFSA), with support from all stakeholders, including SCMS, worked to integrate the supply chain—connecting all levels and covering all health programs. The new Integrated Pharmaceutical Logistics System (IPLS) is a single health commodity distribution and reporting system implemented by PFSA. Today, IPLS is used at more than 90% of the country's facilities.
With systems strengthening technical assistance from SCMS and USAID | DELIVER PROJECT, Ethiopia has transformed its supply chain management and health outcomes. A 2013 survey of 42 facilities showed that 95% of ARV drugs were available. The commodity wastage rate is less than 2%, there are virtually no stockouts, and the country has experienced no ART interruption since 2006. Close to 300,000 HIV-positive people are currently on treatment, compared with 24,400 in 2006, before the reforms were implemented.
To reach Ethiopia's universal access goals, SCMS worked with PFSA to significantly increase warehousing and distribution infrastructure. Together, we designed and outfitted 10 central and regional warehouses, trained more than 6,000 health staff in supply chain management, and developed and implemented a system for ordering and delivering commodities to more than 1,000 sites (up from 170 in 2006).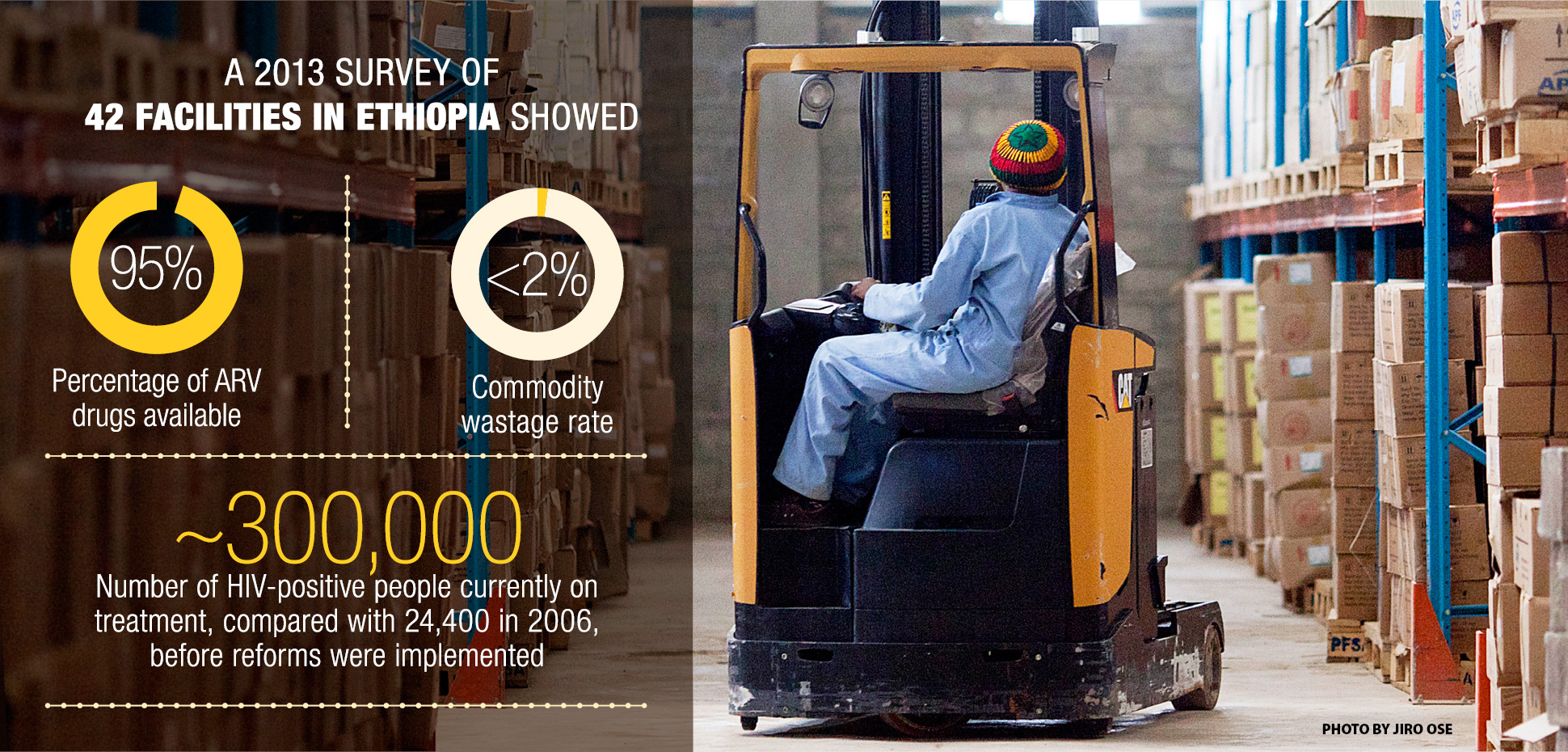 Reducing fragmentation and improving coordination along the supply chain in Burma
When SCMS arrived in Burma in September 2013, the supply chain system was fragmented and there was little coordination between programs and implementing partners. To bring together these critical stakeholders, SCMS, in collaboration with the Global Fund, USAID, and 3MDG, supported various initiatives, including:
The first-ever national supply chain coordination workshop, outlining high-level objectives for strengthening the national system.
The first-ever statistically significant national supply chain baseline assessment; a procurement options analysis.
The first-ever national supply chain strategy workshop, which initiated the first draft of a national strategy.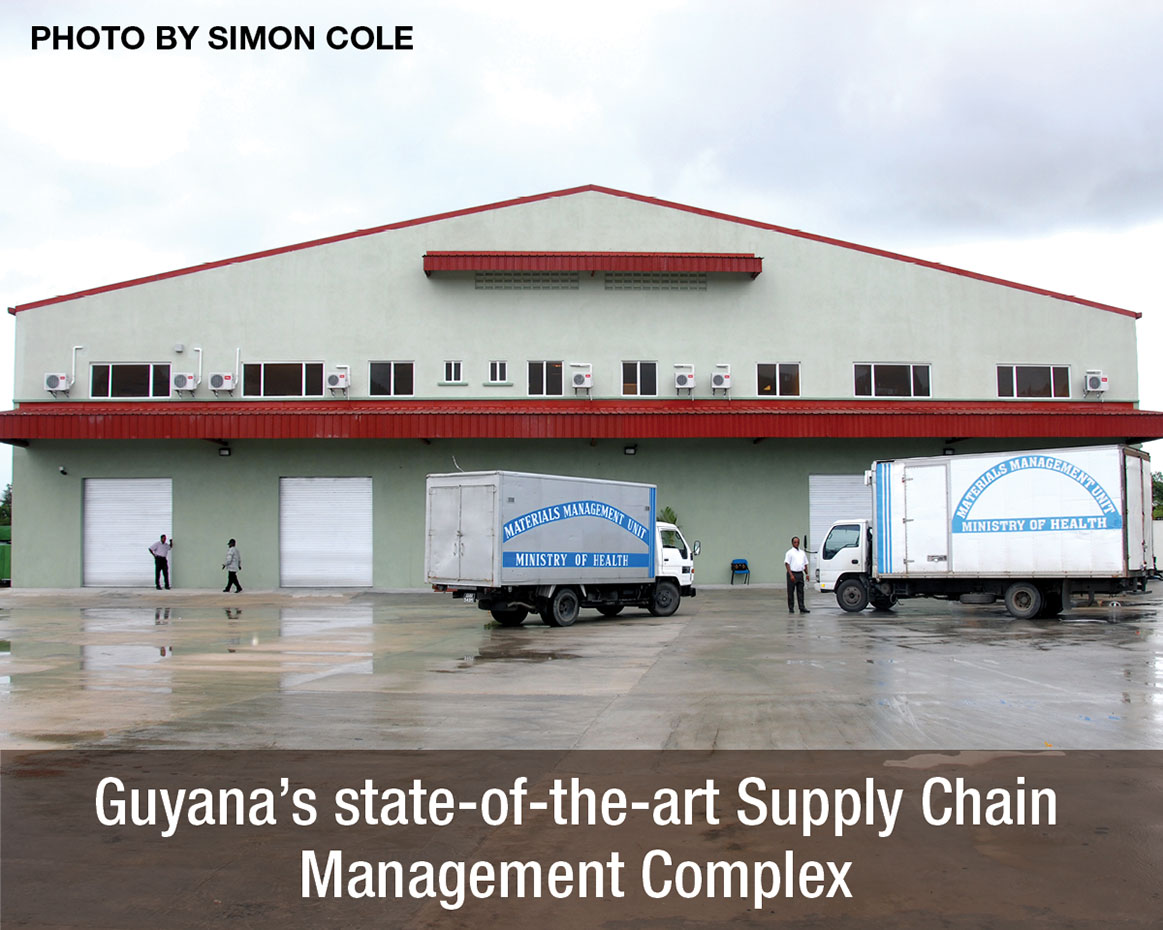 SCMS also established the national supply chain task force to coordinate supply chain activities in the health sector under the MOH's leadership and supported the MOH in developing and approving public procurement regulations. These activities have led to establishing a vision for a harmonized national supply chain.
With SCMS support, Burma is on path to have a modern, integrated, and coordinated national supply chain led by the MOH.
Moving toward a more autonomous CMS in Guyana
SCMS worked closely with the MOH to drive a post-SCMS management model for Guyana's CMS, the Materials Management Unit (MMU). To sustain the high performance of SCMS in warehousing and distribution, we prepared a project charter to help the MOH outsource supply chain operations of the essential medicines program to a third-party logistics service provider, and established a Logistics Management Unit within the MOH.
SCMS also oversaw the construction of a new state-of-the-art warehouse, the Supply Chain Management Complex. This multi-donor-funded facility is the first of its kind in the region. The new warehouse is a legacy for the USG and PEPFAR, since Guyana is due to graduate from PEPFAR support by 2016.
SCMS support led to major successes in the availability of HIV/AIDS and other commodities for care and treatment. For commodities directly under SCMS control, we achieved: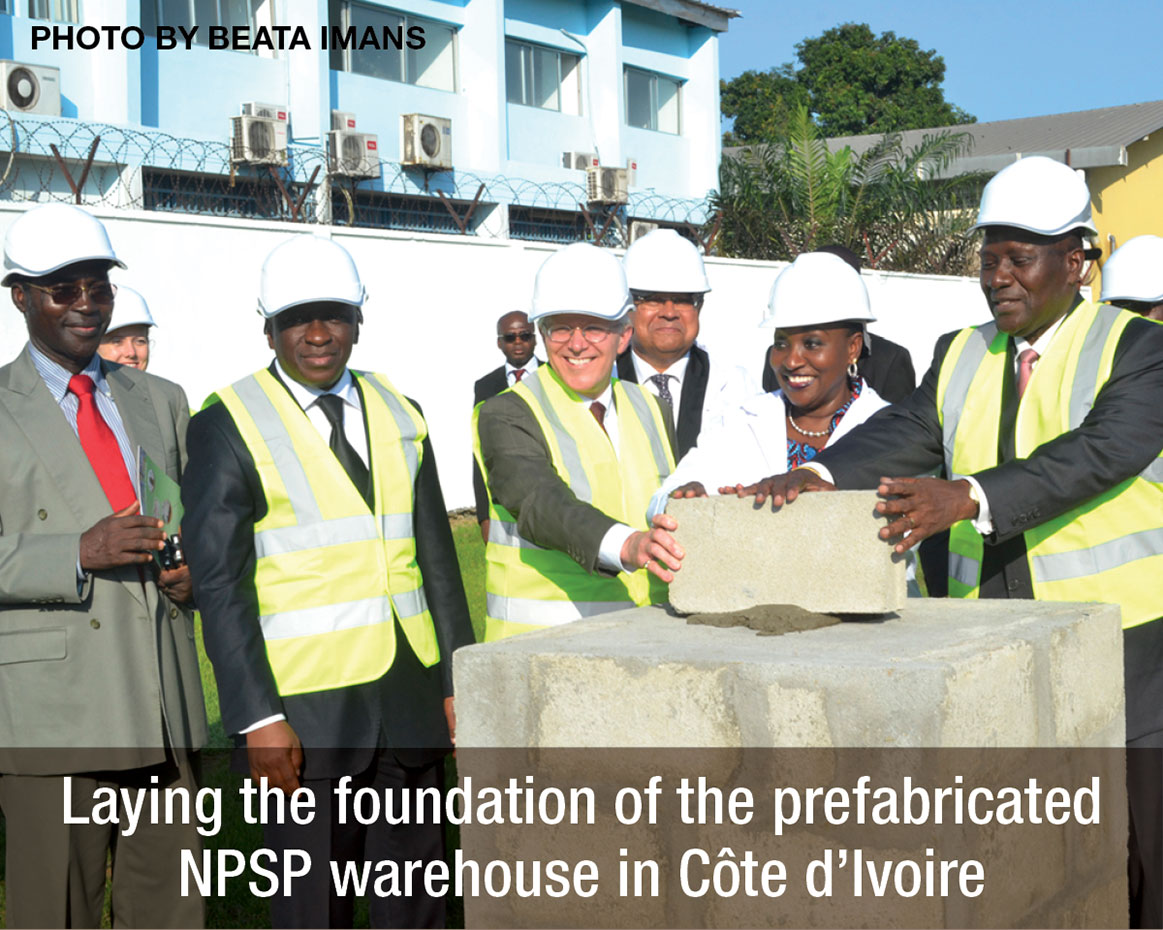 A rate of expired medicines consistently under the target of 3%.
Order fulfillment rates consistently over the target of 98%.
Zero emergency orders in more than 12 months.
Consistent order turnaround time at just 1.3 days.
Creating an autonomous CMS in Côte d'Ivoire
In response to performance challenges at the central medical store (Pharmacie de la Sante Publique, PSP) in Côte d'Ivoire, SCMS initiated a policy dialogue with the Minister of Health, USAID, and the US Ambassador. This exchange led to a presidential decree in September 2012 to transform PSP into an autonomous organization, New PSP (Nouvelle PSP).
New PSP was launched in December 2013 as a nonprofit entity with independent human resource and financial decision-making authority. The government agreed to write off a portion of PSP's debts to give New PSP a financially viable start. New PSP streamlined its operations, reducing staffing from 280 to 180 and improving ARV order turnaround time from 26 days to 5 days.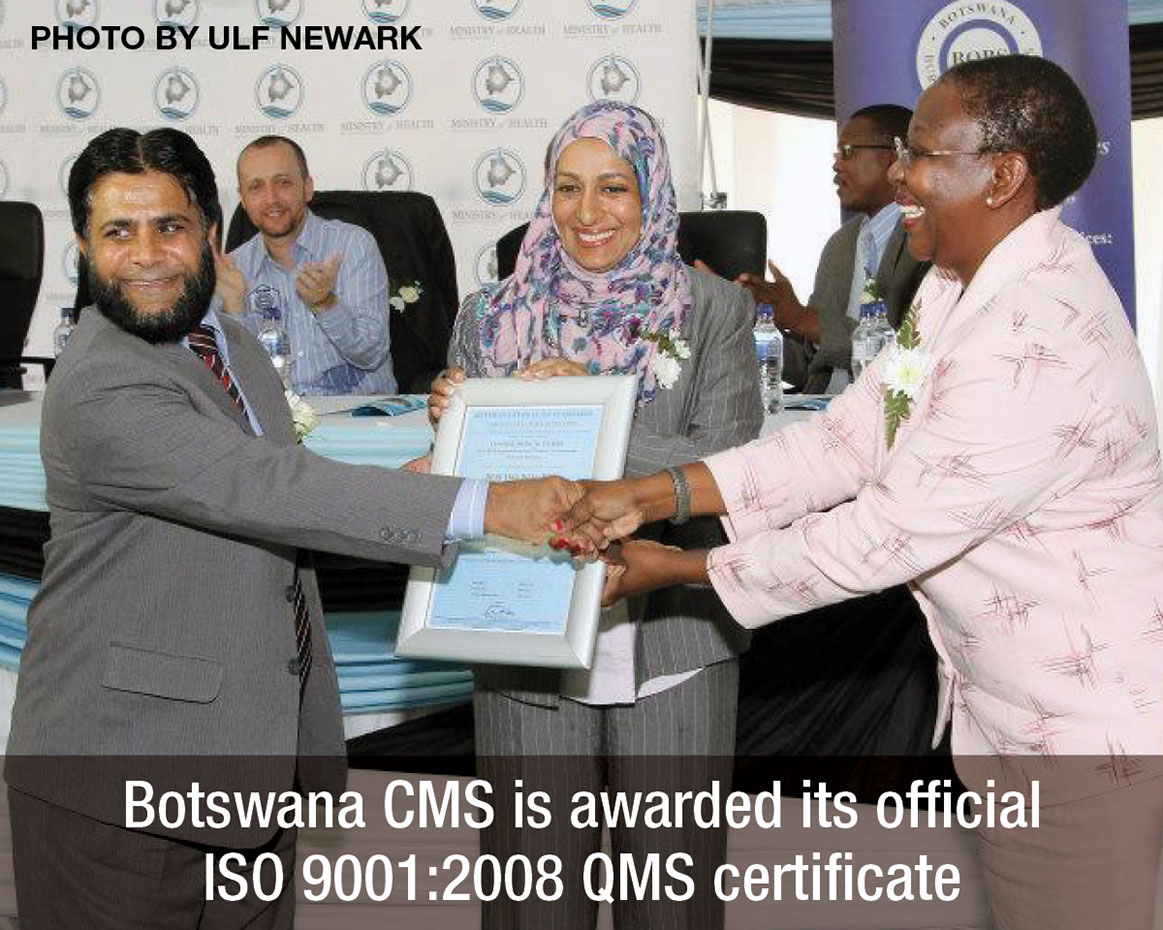 Achieving ISO certification at the Botswana CMS
In 2009, the Botswana MOH partnered with SCMS to initiate a comprehensive reform program at CMS aimed at rapidly improving its services and public image. SCMS mobilized a senior management team to take responsibility for CMS operations for three years while implementing capacity-building and systems-strengthening initiatives, including instituting a new LMIS; establishing a quality management system; and streamlining procurement. As a result, vital drug availability increased from 55% to 82% and wastage through expiry was reduced from more than 7% of the procurement budget to 1%.The reforms at CMS also culminated in achieving ISO 9001:2008 Management Systems certification from the Bureau of Standards Board in November 2012.
In 2012, management responsibility was transitioned back to CMS as planned.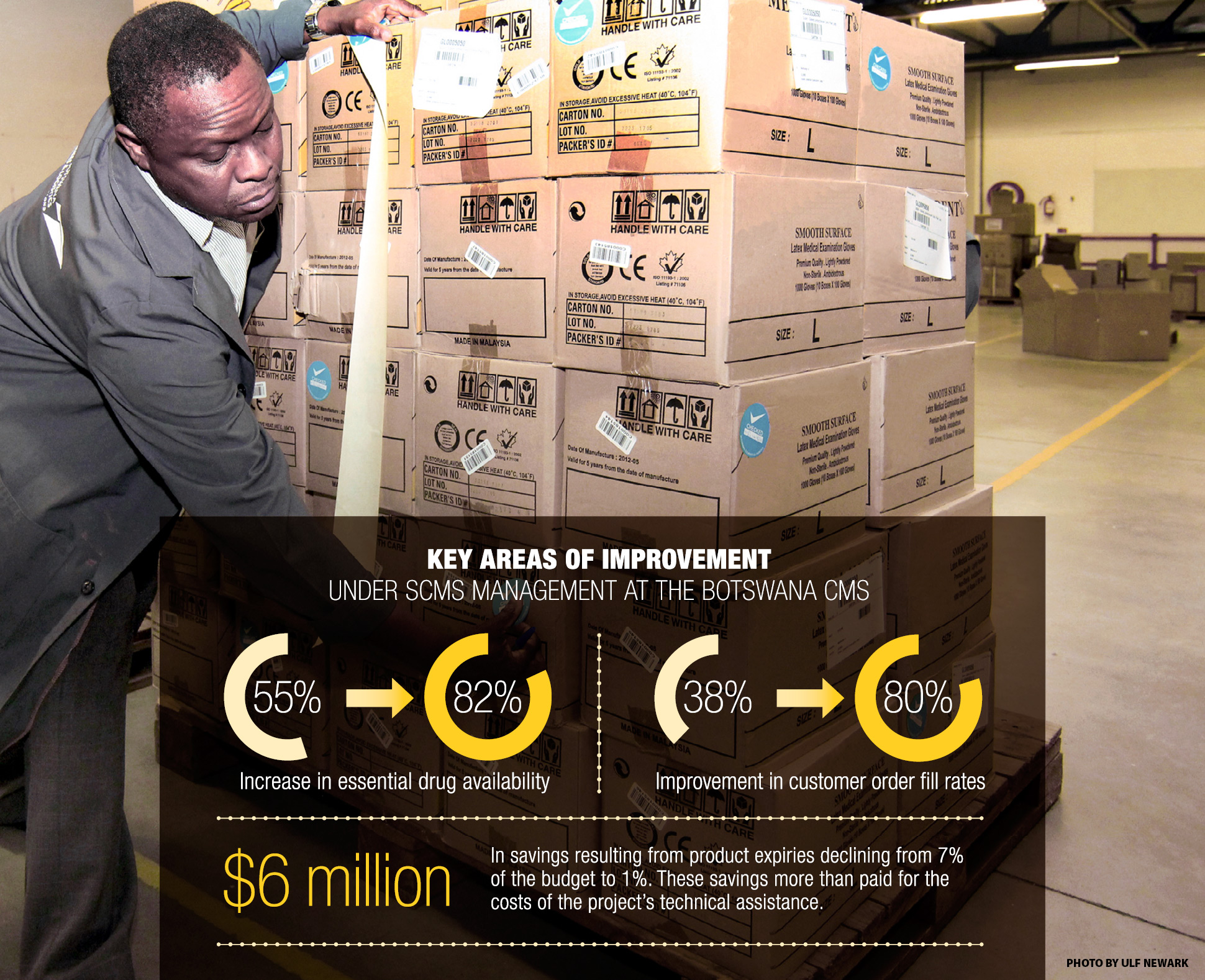 SCMS has played a vital role in the transformation from PSP to the Nouvelle PSP, and has been a trusted partner from the conception of the idea, through the development of the setup and structures, up to the implementation of the change management process. Without SCMS, the transformation to Nouvelle PSP would not have been possible.

—Dr. Ange Désiré Yapi, Director General of New PSP, Côte d'Ivoire